More and more Americans now say they are "spiritual, not religious." And this trend is continuing to rise. This is a great opportunity for organizations and practitioners of non-religious movements. This is it. This is the time.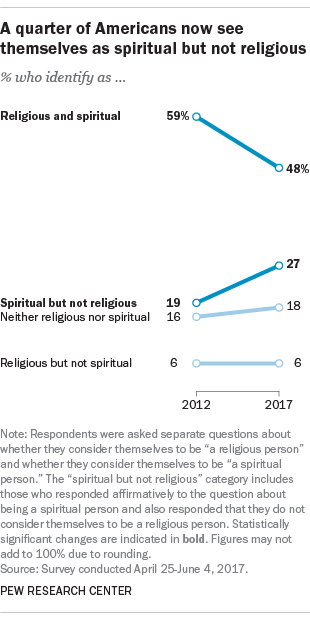 [Read more at: https://www.pewresearch.org/fact-tank/2017/09/06/more-americans-now-say-theyre-spiritual-but-not-religious/]
For practitioners of spirituality, this is an obvious trend as predicated by our entering the Age of Aquarius. People will throw down the shackles of organized religion and dogma and seek the truth.
What a great opportunity to help people enter into a worldwide community of spiritual seekers and adventurers, unifiers, kabbalists, healers, yogis, shamans, senseis, holistic nutritionists, adepts and metaphysicians.
If your consciousness has been elevated by studying, learning and practicing non-religious systems, what can you offer folks who don't have access? Can you give classes online at a reasonable cost?
Our mission is to connect you with communities that don't have a yoga center or health food store on every block.  See https://www.wellnesscorps.org/body/what-is-a-fitness-desert/ to search our the "fitness deserts" and quite frankly, holistic health deserts in your community.
What can you do for the communities that still take public transportation in cities where cars are vital? Places like my home, Broward County, Florida, is home to vibrant holistic communities in Hollywood, Fort Lauderdale and more, but there are people in these very same towns who can't afford a car, and rely on sparse commuter resources to get around. Can you offer a bus once a week to pick people up and bring them to your meditation center? Can you bring spirituality classes to these very neighborhoods?
Equity does not mean charity. It's understanding the history of our great country and recognizing that we need to level the playing field for communities who have been disenfranchised and barred from having the same access to resources that you and I take for granted.
What is one step you can take to create a level playing field for all Americans?